Karen Ann Hoffman
Oneida Nation of Wisconsin
Karen Ann is a Haudenosaunee Raised Beadwork artist who creates contemporary work combining traditional styles and modern materials. Her work is deeply connected to her Haudenosaunee culture.
About Karen Ann Hoffman
Oneida Nation of Wisconsin
Karen Ann Hoffman is a member of the Oneida Nation of Wisconsin and a Haudenosaunee Raised Beadwork artist. She lives in what we know today as Wisconsin, with forests, grasslands, and a marsh as her neighbors. These neighbors along with her Haudenosaunee culture inspire the Raised Beadwork she creates.
Haudenosaunee Raised Beadwork is a style done only by members of the Six Nations of the Haudenosaunee Confederacy. In the Haudenosaunee style, beads are sewn onto cloth so they rise above the surface, rather than lying flat against a fabric backing.
Karen Ann works with existing forms, like rocking chairs and Victorian-era footstools, and embellishes them with soft velvet and iridescent beads piled high to create exquisite Raised Beadwork artwork that sets a standard of excellence for future beadwork artists.
She draws upon the Haudenosaunee tradition of creating beautiful, functional pieces for use within the tribal community, while simultaneously working in a unique style born out of a booming tourist market for beadwork in the mid-19th century. Karen Ann's Raised Beadwork pieces are grounded in Haudenosaunee culture while modern in design. Made to explore and celebrate the Haudenosaunee worldview, they are often displayed in galleries and museums.
Her work can be found in the collections of the Smithsonian National Museum of the American Indian, Field Museum in Chicago, Eiteljorg Museum of American Indians and Western Art in Indianapolis, and Iroquois Museum in Howes Cave, New York, along with many private collections throughout the world.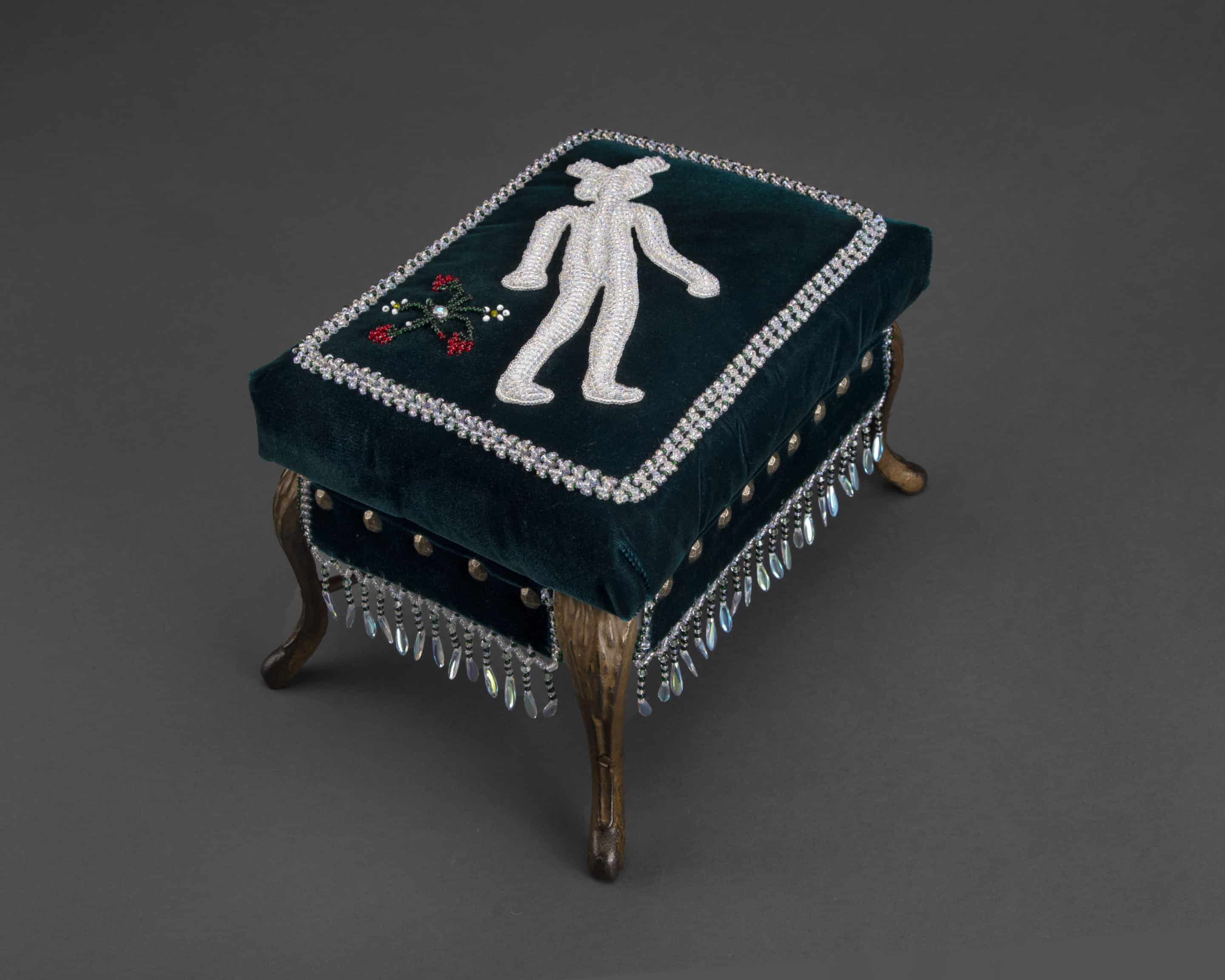 Karen Ann Hoffman (Oneida Nation of Wisconsin, born 1957), Man Mound Footstool, 2017, raised beadwork, glass beads, velvet, 1920s cast iron footstool, brass tacks, Museum purchase, 2021.1.1
Marsh
Land that is soft and muddy, often with shallow pools of water and tall grasses or cattails; home to frogs, turtles, and other amphibians.
Six Nations of the Haudenosaunee Confederacy
This is an alliance of six Native American nations— Mohawk, Oneida, Onondaga, Cayuga, Seneca, and Tuscarora. The Haudenosaunee people call themselves Ongweh'onweh, which means "people who build a house," and that's what the Six Nations Confederacy is like— a big house for its member nations who are united by the Great Law of Peace. It stresses using reason rather than force to ensure a society based on three ideals— Righteousness, Justice, and Health.